Slots Empire Payout Options
When visiting any casino site, one of the main questions you may have is about the payout process at the site. At Slots Empire Casino games, players can use a variety of payment options to make a withdrawal. The main thing to realize is that you won't be able to make a Slots Empire withdrawal unless you go through the KYC procedure first. You'll need to provide personal ID documents at the site, and customer service will verify your identity. You can then get a Slots Empire payout. That being said, you can learn more about the payment options and process at Slots Empire Casino in the following sections.
Payout Options
As mentioned before, there are several Slots Empire withdrawal options that you can use to withdraw your money from the site. They include:
bank card;
bank wire;
Bitcoin.
Depending on your particular withdrawal option, you may get a slightly different experience with your payout in terms of payout speed and limits. So, if you want to get speedier payouts with smaller fees, you may want to use some payment methods more often than others.
Payout Process
Once you've won some money at Slots Empire Casino, chances are you'll want to withdraw your money. To do this, you'll need to do the following: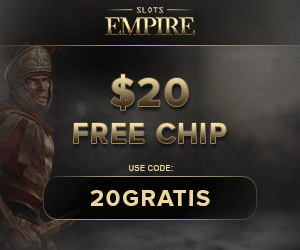 Visit the Slots Empire Casino website and log into your account.
Visit the cashier page and select the withdrawal option of your choice.
Enter the sum you wish to withdraw and enter the billing details as required.
You'll then initiate a withdrawal, and soon enough, you'll have the money transferred from your casino account to your preferred payout method. Remember the fact that you'll have to go through the KYC procedure and deposit personal identification documents to get verified before you're allowed to initiate a withdrawal at Slots Empire Casino.
How Long to Wait for the Withdrawal of Money
Again, the withdrawal time at Slots Empire will vary depending on the withdrawal method you select. The withdrawal time varies in the following way:
if you use bank wire, you'll get a withdrawal in 3-5 days;
if you use Bitcoin, you'll get a withdrawal in 1-3 days;
if you use bank cards, you'll get a withdrawal in 1-4 days.
Is Slots Empire safe? Even if you use the "slower" payout methods, you will still get a quick payout, regardless. You'll have your money transferred in up to 5 days at worst and instantly at best. You're free to use any of the available withdrawal methods to initiate a payout – you'll always have your money transferred safely and securely.
How to Cancel Withdrawal
There's also the option to stop the payout process at Slots Empire and cancel your withdrawal. To do that, you will need to contact customer service at Slots Empire Casino. The sooner you do this, the better. We suggest you use the live chat support contact option to contact customer service. It will instantly get you in touch with customer service, as there are always support agents ready to help you. You can then tell the agent to stop the transaction. Note that this won't always be possible – if the process has gone through a certain phase, the transaction will be completed.
But even if the transaction gets processed – you will still have the option of returning your money to the casino by making a new deposit, try here. Deposits tend to be even speedier than their withdrawal counterparts.